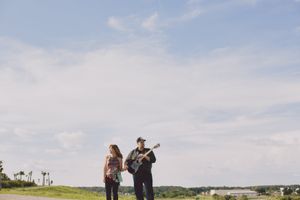 Bio
     His Country, husband and wife duo, Duane and Dee Kauffman are from Sarasota, FL. Known for their close harmonies and warmth, Dee's voice has been described as liquid golden honey, and Duane's smooth guitar picking can ease anyone's worries away. They are both singer/songwriters  that not only sing country and Christian cover music, but they also sing their own original contemporary Christian songs. Recently quoted as being "One of the best musical performances we have ever had" by The Women's Connection of DeBary FL.
     Duane was inspired by the Grand Old Opry and took guitar lessons in fifth grade and expanded his talents by playing almost any instrument he picks up including acoustic, bass, and electric guitar, keyboard, banjo, mandolin, violin, saxophone, and harmonica.
     Dee fell in love with singing at a young age and was influenced by Celine Dion and Whitney Houston. Her beginning career highlight was singing "My Heart Will Go On" in college. Dee does motivational and inspirational speaking for a national women's group, Stonecroft Ministries, through Christian Women's Connection of Fl. She speaks of overcoming 15 years of trials including losing a brother to Aids, and learning to be thankful through it all.
     They have enjoyed doing fundraisers, singing at special events like the National Day of Prayer, entertaining groups, doing full length concerts, and performing holiday music. They are currently working on their first CD of original music and are available for concerts, speaking and entertaining. On occasion they are even joined by their two children. Other comments of their music are "I think I could've listened to you for hours", and "you both have such beautiful voices and are so talented."